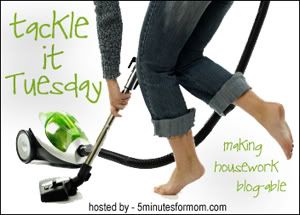 This week's tackle is sans pictures, I have a birthday party coming up for my son on January 11, so I am deep cleaning, scrubbing floors, dusting, etc and I am really not up for taking before and after pics with everything that I need to do with having to put away Christmas gifts on top of this.
We are also running to the credit union this morning to get a deposit in before the end of the year to save us all a $5 service charge.
The most important tackle today is prayers for Baby
Stellan
, he is in the hospital fighting for his life with RSV. You can get details and updates on
My Charming Kids
please keep
Stellan
and the whole family in your prayers, God is great.
Check out what other people are tackling and tell us what you are tackling over at
5 Minutes for Moms
.