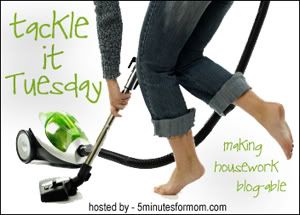 Today, I have 2 tackles because, well, you'll see.
Since my son is on treatments for an asthma attack, my primary tackle is, of course, his meds. They have him on Xopenex (albuterol) 3-4 times per day and Pulmicort (corticosteroid) 2 times per day through nebulizer, oral steroids 1 time per day ending today and Singulair 1 time per day. So I have my little list of when to give him what and am following that so I don't forget anything.
My real tackle is making cookie dough. I usually start making cookie dough in October but I'm a little behind, as in I only have one kind made so far. Today, my MIL came over and we made oatmeal cookie dough, oatmeal raisin dough and made her oatmeal raisin cookies because she doesn't see why you should make the dough and bake the cookies later. For those of you who agree with her, I do it because it makes my baking easier. I don't bake my cookies until after Thanksgiving and if you look
here
you can see how much I make each year. Having dough already made and frozen means it's just like buying those buckets of dough only better because they are still homemade.
I'll put up pictures later when I have them on the computer.