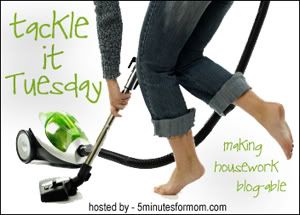 Well, I have no pictures for my second Tackle it Tuesday. Today, I made a list of everything I need to do before Christmas. We usually host Christmas here for my family, though I haven't checked with my family yet, I'll go under that assumption so that my house gets cleaned. So, today, I tackled my list. I wrote down everything I need to do to get the house ready and tonight, my husband will make it longer because I always forget something.
I also tackled voting for our next president, and regardless of who I voted for, I will take my father's stance... I voted for the guy who wins!
So tell us what you tackled today and link it up over at
5 Minutes for Mom
.