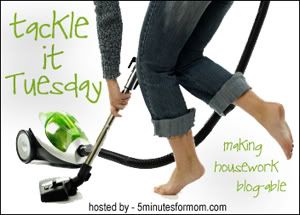 WINTER HATS
That's my tackle. I love sewing and I usually make hats for my son. I didn't make any last year because the previous year's fit him but this year he needed new. I let him pick out the style and the color (red) but since he has a blue jacket, I gave him 2 choices for the contrasting color, both blues and he picked both so he got 2 hats, but he only let me take one picture. The other hat looks just like this one only it's red and solid navy blue.
I'm making gloves too, but they aren't done yet. At the rate I'm going that may be my Tackle for next week.
So, now it's you turn, head on over to
5 Minutes for Mom
and add your tackle.