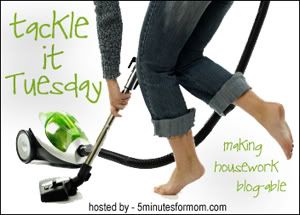 Over on
5 Minutes for Mom
she holds a Tackle It Tuesday challenge. well this was my Tackle It for today, I really did do it today too. See that nice bag in the front, the Tastefully Simple one, well I'm having a party tomorrow to support my friend who recently started selling the wonderful stuff, so I kind of needed to clean off my table to make the dips and, well to put the food somewhere.
We tend to put things down where is convenient and they tend to stay there for a while, but today our table went from this ...
To this...
I even put out a couple of Halloween decorations. My son made the ghost last year.
So, now it's your turn, do your own tackle it and post it
here
.