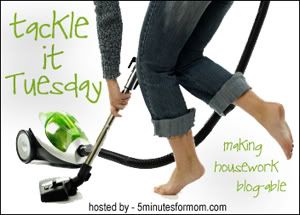 Well, Kid Jedi graduates from preschool this Friday and we're having family over for a mini-celebration. So, I figured I should get some cleaning done. Today it was the foyer. These are before:
This is the bench we have to use as our launch pad, obviously nothing is launching right now.
The steps going upstairs, this is where I put things that need to go upstairs, obviously I haven't taken things up to put them away in a while.
From the front door:
The after pictures will be posted later today, I'm waiting for my floor to dry from being scrubbed so I can put the bench, coat tree and shoe basket back.
(EDIT)
Here are the after pictures:
And the on the bench/Launch Pad are the teacher gifts for Kid Jedi's teacher and assistant (Popcorn bowl with Caramel Popcorn and Chocolate Drizzle Popcorn from Dale & Thomas).
This is what I tackled, let us know what you tackled and head on over to 5MFM to see what other Mom's tackled this week.