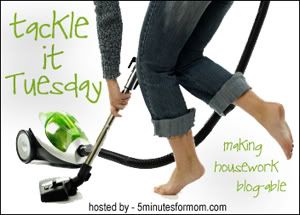 Ok, no photos for this one. Kid Jedi had a sleep study last night and that left me exhausted beyond all reason. However, we will be heading to the shore tomorrow morning early; as in get up, eat breakfast and get in the car, so today I will be tackling packing for our trip. It's only for overnight at my parents' trailer at a campground, but since it's the first one of the season, games and some books have to go down too. So today, we will be deciding what games and books we can do without at home for the summer and pack some clothes, load up the car. We will probably be at the campground by 9 am tomorrow.
This is what I'm tackling, let us know what you are tackling and check out
5MFM
to see what other Mom's are tackling.