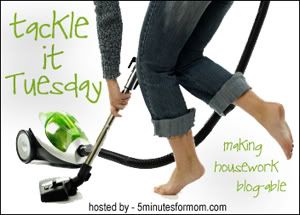 Well, it's spring here in South Jersey, though you wouldn't know it by the wonderfully crisp 40
ish
weather we've been having. But in preparation for the warm weather I know will be here sometime, though we may go right into summer, I decided the time was ripe to replace some screens we have, like this one.
Which has this lovely hole in it.
The attractive sheet is to protect my dining room table. I had done some of the screens last fall, but needed to finish I had 3 on the first floor to do and 6 for upstairs (I only did the downstairs in the fall).
When I was done, this is what I had.
A whole screen that it was way to cold to have open and a view of my neighbor's pretty garden.
This is what I'm tackling this week. Head on over to 5 Minutes for Mom and let us know what you're tackling and see what other Mom's are doing.