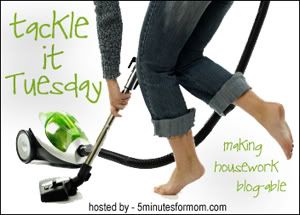 As I told you last week, I love recipes. Last week I started to tackle the loose recipes, this week, it's my cookbooks, and boy do I have a lot of them. Now I do use most of them, but there are a few that I don't or that I only use for one recipe, so it's time to purge.
The bottom shelf of my bookshelf is cookbooks.
This is the shelf after the purge:
Not a huge change, but I have a lot of books on cooking with kids that will eventually go but since my 5 year old really likes cooking with me, I'm keeping.
Here's what I'll be donating to my library:
This is what I'm tackling, check out
5 Minutes for Mom
to see what other Mom's are tackling and let us know what you're doing.