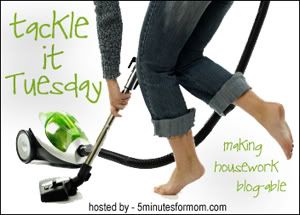 Ok, so I finally went scrapbooking for the first time in about 6 months a couple of weeks ago. I am going to an 18 hour, 2 day crop the Friday (6-midnight) and Saturday (10-10) after Mother's Day. Well as such, I need to order some pictures so this week, I will be looking through my tons of pictures from 2007, yes I am 2 years behind and ordering some. I will also be renaming the hundreds of pictures I took from February until now so that I can upload them to Winkflash and save them to a DVD-R for back up.
Spring cleaning is coming too, it would have been this week, but rain kind of makes cleaning windows difficult.
This is what I'm tackling this week, let us know what you are tackling and check out other Mom's tackles at
5 Minutes for Mom
.