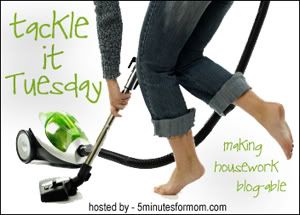 Well, today's tackle isn't a very interesting one, no pretty pictures either. We have been all over the place since Christmas. If you read last week's tackle, you know that right after Christmas we started prepping for my son's 5th birthday party, well that's now over and since last week was hectic between my DH's car being in the shop Monday & Tuesday, my son's doctor's appointment on Friday and finding homes for all our new toys, I'm spending this week getting caught up and back on schedule. I'm starting with laundry and putting all the dishes/cake decorating stuff away from the party. I finally changed my dishes from Christmas to regular again. So next week, I will have a real tackle with pictures and all, though I'm not sure what it will be yet.

So, this is what I'm doing this week, let us know what you are doing and check out what other Mom's are doing at 5 Minutes for Mom .
And don't forget to celebrate the inauguration of our newest President.