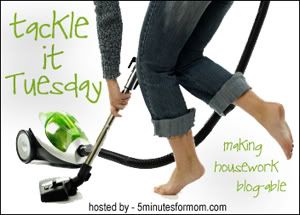 Well, now that I'm home from the free movie at our local United Artist Theater, I'm ready to finish my tackle. My Mom has a baby shower for a friend this weekend and she asked me to make some burpies, I usually make the ones made out of diapers with flannel down the middle and ribbon on either side of the fabric, and I am making them, but I got a pattern from YouCanMakeThis.com for a receiving blanket and one for burpies and I'm making them. Last night I cut everything out and pinned it up, today it will be sewing. Come by tomorrow to check out my pictures of the finished product.
****Update - Pictures****
This is everything I made: 4 burpies in 2 different styles, 1 receiving blanket:
This is the receiving blanket:
These are the burpies I usually make:
These are the burpies that match the receiving blanket:
This is what I'm tackling, let us know what you're tackling and check out other tackles at 5MFM.