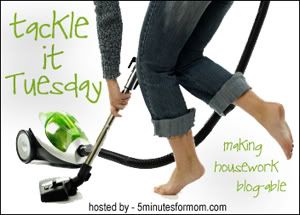 I've been doing a lot lately trying to get ready for my son's tonsillectomy and adenoidectomy, so I haven't posted a tackle in two weeks, I promise I've been tackling, just no time for blogging. I haven't even read a blog in close to 2 weeks, so to get back in to things, this is what I've been tackling and will finish today....
I'm making 33 of these lovely chocolate lollipops. 28 students, 4 teachers and 1 office worker. We are also signing lots of Valentine's cards, which next year I'm starting in January. I've finished 24 of them so far. Here's what they look like all wrapped up.
I made little labels that say Happy Valentine's Day from my son (I really use his name), and 100% chocolate, no peanuts (because of a peanut allergy in his class).
I will also be making brownies and big chocolate chip cookies for his class party.
I may not post next week since my son is getting his surgery on Monday, but I will definitely be tackling.
This is what I'm tackling this week, let us know what you are tackling and check out what other Mom's are tackling at 5 Minutes for Mom.