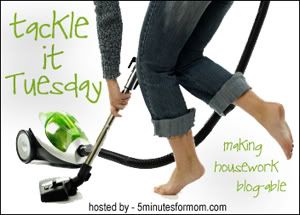 Tackle it Tuesday, oh how I miss you, I'm going to post what I have tackled this week at least...I registered for my 24 hour pre-service class to get my Alternate Route Teacher's Certification. Beyond that, well I tackled getting healthy, we've been really sick around here.
I will be finished my temp job on Friday which will open up a whole lot of free time, at least until I get another call from either the temp agency or to sub, please let it be to sub, please, please, please. So for the next month, I will be doing lots and lots of tackling...starting with my bedroom. This is the bedroom now.
I have a tendency to put any clothes that are waiting for mates on my dresser, and, well since I have pillows piled in front of my dresser, my sweaters get piled there too...as does pretty much everything else. I also will be tackling this:
Yes, that would be the laundry pile, I've gone from doing 2 loads a day to maybe one and though my hubby is home right now due to a layoff, I don't trust him (or anyone really) to do our laundry. The most important thing I will be doing though is studying for my Praxis II exams so I can actually get that Alternate Route Certification after I am done the 24 hour class.
This is what I'm tackling this week, head on over to
5MFM
to see what other Mom's are tackling and let us know what you're tackling!